How Does LendingTree Get Paid?
LendingTree is compensated by companies on this site and this compensation may impact how and where offers appear on this site (such as the order). LendingTree does not include all lenders, savings products, or loan options available in the marketplace.
How to Get a VA Loan in 5 Steps
Updated on: February 10th, 2021
Editorial Note: The content of this article is based on the author's opinions and recommendations alone. It may not have been reviewed, commissioned or otherwise endorsed by any of our network partners.
If you're an active-duty service member, veteran or eligible surviving spouse, knowing how to get a VA loan and the requirements involved is good preparation for homeownership. VA loans are backed by the U.S. Department of Veterans Affairs (VA) and require some extra steps. Doing your homework before you shop with VA lenders may help make the VA loan process easier to navigate.
Step 1: Find out if you're eligible for a VA loan
The VA backs home loans to eligible military borrowers and their surviving spouses. Each day of service counts towards your VA entitlement, which is the dollar amount the VA will pay a lender if you default on the loan and can't repay it.
You may have VA loan eligibility if you served:
90 consecutive days during wartime
181 days during peacetime
More than six years in the National Guard or Reserve
The easiest way to find out about your VA loan benefits is to request an online VA certificate of eligibility (COE). If you can't get your COE online, you may need to fill out a VA Form 26-1880 and mail it, along with a copy of your DD Form 214, to the address listed on the form. The latter form is a Report of Separation service members typically receive after a military discharge.
The lender will enter your COE information into a VA entitlement calculator to determine the maximum VA loan amount you qualify for.
Step 2: Learn the VA loan requirements
VA loan requirements are more lenient than conventional or FHA financing. Minimum VA mortgage requirements include:
No down payment. In most cases, a down payment isn't required. Conventional loans require a 3% down payment, while the FHA minimum is 3.5%.
No minimum credit score. The VA lender's handbook doesn't set a minimum credit score, however, most VA-approved lenders (who issue the loans) require at least a 620 credit score.
No federal debt defaults. Lenders will run your information through the Credit Alert Interactive Reporting System (CAIVRS) to ensure you haven't defaulted on federal debt such as student loans or past VA loans.
A two-year employment history. Although two years of steady job history is the VA guideline, recently discharged military borrowers may qualify for an exception.
A maximum debt-to-income (DTI) ratio of 41%. Your DTI ratio is a measure of your total monthly debt (including your new mortgage payment) divided by your before-tax monthly income. The VA's maximum DTI ratio is capped at 41%. Exceptions are possible, though, if you meet the VA's residual income test.
Residual income. Unique to VA loans, residual income calculates how much free cash you have each month. The requirement varies based on home and family size, and location.
VA funding fee. VA loans don't require mortgage insurance to protect lenders if you default on your loan. Instead, you'll pay a VA funding fee equal to 0.5% to 3.6% of the loan amount. The fee helps offset the cost of the VA loan program to taxpayers. Military borrowers with service-related disabilities may qualify for a VA funding fee exemption.
No loan limits. Standard conforming loan limits don't apply to VA borrowers who have full entitlement. If you have "remaining" entitlement, however, VA loan limits will kick in. Plus, lenders may set their own maximum loan amounts, so ask your loan officer what the company's limits are if you're buying in a high-cost area.
VA home appraisal. Your home will need a VA appraisal, which involves more steps than a standard appraisal. The home must meet VA minimum property standards to ensure the home is safe, sound and sanitary.
Primary residence occupancy. You must live in a home as your primary residence to qualify for VA financing.
Limits on co-borrowers with zero down. The VA guarantees loans with zero down payment only to military borrowers and eligible spouses. If you co-borrow with someone who isn't a spouse or eligible veteran, you may have to make a down payment.
Step 3: Shop for a VA-approved lender
To ensure you get your best VA interest rates, shop around with multiple VA lenders. Not all lenders are VA-approved or experienced with VA loans, so make sure you work with a company that's knowledgeable about VA requirements to avoid hiccups along the way.
As you shop around, look closely at the quoted VA closing costs. The VA lender's handbook sets a cap of 1% of your loan amount on these fees so if you see loan estimates with higher fees, keep shopping.
Step 4: Gather your financial documents
VA lenders collect the same type of paperwork conventional or FHA lenders request. Here's a checklist of the VA loan paperwork you'll need handy to ensure the VA loan process goes smoothly.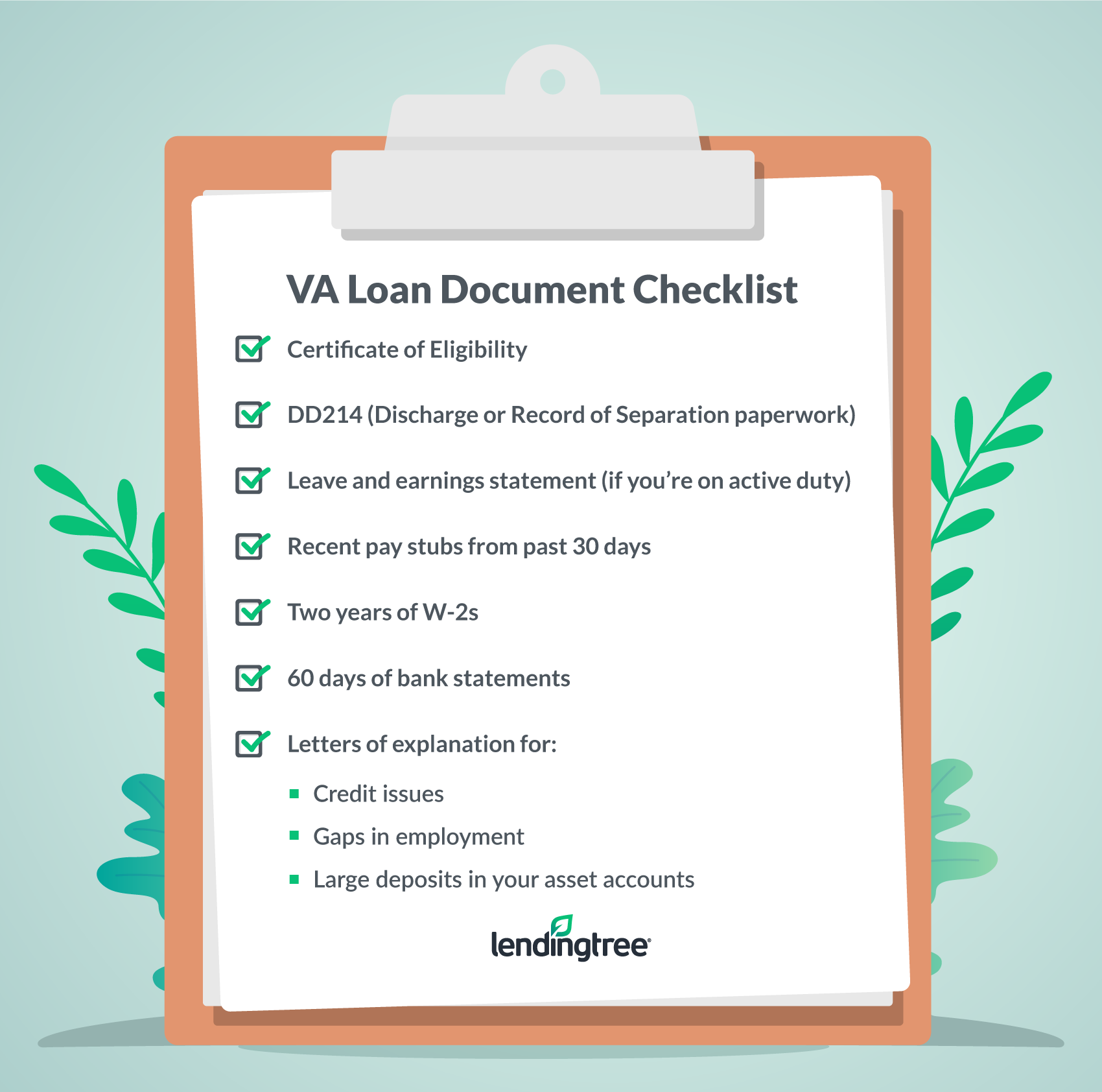 Step 5: Find a home and close your loan
The VA loan process follows the same path as any other loan. The lender reviews your income, assets and credit report to confirm you meet the minimum requirements. Once you find a home and have an accepted purchase contract, there's an extra safeguard to keep you from buying an overpriced home: the VA amendatory clause.
Also called an escape clause, it's a standard VA form signed by all the parties in the transaction, and gives you the legal right to cancel if the appraised value of the home is lower than the sales price. The seller must return any earnest money you paid upfront with no penalty.
Once the VA appraisal inspection and report is complete, your lender will give your loan a final stamp of approval. You'll receive a closing disclosure three business days before your closing date and do a final walkthrough of the home. At closing, you'll sign final paperwork, pay any closing costs and officially become a homeowner.