How Does LendingTree Get Paid?
LendingTree is compensated by companies on this site and this compensation may impact how and where offers appear on this site (such as the order). LendingTree does not include all lenders, savings products, or loan options available in the marketplace.
How to Get a Car Loan
Updated on: July 1st, 2022
Editorial Note: The content of this article is based on the author's opinions and recommendations alone. It may not have been reviewed, commissioned or otherwise endorsed by any of our network partners.
If you've never gotten an auto loan before, you may feel a bit overwhelmed on how it works. While it may seem complicated, the process can be quite simple: review your credit history, set a budget, get preapproved for a loan, choose a lender and close the loan. We'll walk you through each step to help you understand how to finance a car.
In this article, we'll explore these steps:
ALSO:
1. Check your credit report
The first thing that you'll want to do when you need a car loan is check your credit report. Auto lenders sort loan applicants into different tiers by credit score; the better your credit score, the better the offer you're likely to receive. A lower annual percentage rate (APR) means that you'll pay less in interest fees over the life of the loan.
If your credit score is low or not as high as you'd like it to be, you should review your credit history and take steps to improve your score. You can visit AnnualCreditReport.com to receive a free copy of your credit report from all three of the major credit bureaus. If you spot an error, you can file a dispute to get it resolved.
Average APRs for closed auto loans in Q1 2022
| Credit score | Average APR |
| --- | --- |
| 720 or higher | 4.85% |
| 680-719 | 6.64% |
| 660-679 | 8.68% |
| 640-659 | 9.86% |
| 620-639 | 12.04% |
| 580-619 | 14.08% |
| 560-579 | 15.18% |
| Less than 560 | 17.22% |
Source: LendingTree data
How to get a car loan with bad credit
If you have a low score or no credit history, you may still be able to get a car loan, but you'll likely pay more in interest. One thing that you can do is find a cosigner, or someone with good credit who's willing to back you. Their good credit history can help improve your chances of receiving a favorable rate, but if you fail to make your payments on time, your cosigner's credit will be impacted.
Some lenders offer bad credit auto loans, but they often come with much higher interest rates. As you pay your auto loan responsibly each month, your credit score is likely to improve. Eventually, you may be able to refinance your auto loan for a lower interest rate.
2. Determine your budget
Next, carefully examine your monthly budget and determine how much you can afford to spend on a car. Remember that a car costs more than its sticker price; insurance, gas, maintenance and taxes can all add up.
When you start working with auto lenders, you'll likely be approved for a specific total purchase price and/or a certain monthly payment. Just because you're approved for a certain amount doesn't mean you have to spend that much, or even that you can comfortably afford those payments. It's best to determine your budget before you start car shopping. Otherwise, it can be too easy to get caught up in the emotions of buying a new car and end up with more car than you can afford.
A good rule of thumb is to offer a 20% down payment and spend no more than 10% of your monthly income on transportation. If that's not possible, try to put down at least 10%, opt for a loan no longer than five years and keep your total transportation costs under 20% of your monthly budget.
3. Get preapproved
This is perhaps the most important step in the process. It's smart to shop around for rates with several lenders before you start looking for cars. This gives you a good idea of how much you can afford and also locks in your rate before you step into the car dealership. When you apply for an auto loan through a dealership, dealers can — and often do — raise your APR. By having an auto loan preapproval in hand, you'll already know what rate you qualify for and won't be talked into spending more than you should. Before you head to the dealership, you can get up to five auto loan offers from LendingTree.
Types of lenders to consider
Each type of auto loan lender comes with its own pros and cons, so you'll want to consider each one to determine which might be right for your situation.
Preapproval vs. prequalification
Preapproval and prequalification are similar terms that both relate to getting a new loan, but they come with key differences. A preapproval is a firm commitment from a lender to loan you a specific amount of money. Prequalification, on the other hand, is more of an estimate based on only a soft credit pull. Since a prequalification is not a firm loan offer, you may find it more difficult to negotiate with your dealer.
Preapproval
Prequalification

A firm offer from lender
The lender does a hard credit pull
APR is not likely to change
It offers a firm negotiating position

An estimate of the loan offer you may receive
The lender does a soft credit pull
APR is likely to change
Application requirements
The exact documents that you'll need to apply for a car loan differ by lender, but typically, you'll need to present a few categories of documents:
Personal details: This includes demographic information like your name, address, phone number and Social Security number. You may need to bring proof of identity, such as a driver's license.
Employment information: Most lenders will require proof of current employment, such as pay stubs or W-2 forms.
Desired loan amount: You'll need to know how large of a loan you're applying for, as well as whether you plan to buy a new or used car.
Vehicle: It's not always required, but if you already have picked out a vehicle, you'll need to provide the car's VIN (vehicle identification number) or its year, make and model.
4. Select a lender
Once you have several loan offers, you can select the best offer for you. You can even ask the dealer to beat your best preapproval offer, but make sure that you are comparing apples to apples. They may try to match the offered monthly payment by extending the loan term, which means you'll pay more over the life of the loan. If the dealer can offer a better rate and term, great! You just saved even more money. If they can't, you still have your preapproval offer in hand.
Reviewing your offers
When comparing auto loan offers, it's crucial to understand industry terms so you can make sense of your offers. Here's what you'll need to know:
Down payment: The down payment is the amount of money that you pay upfront as part of the purchase of your vehicle. Your lender may require you to pay a certain percentage of the car's total price upfront as a down payment.
APR: The annual percentage rate is the amount you're paying the lender in fees and interest, expressed as a percentage. The higher the APR, the more you're paying the lender overall.
Taxes: This includes any sales or other government-issued taxes that come as part of the purchase of your car.
Fees: In addition to taxes, fees are another prepaid item that might be rolled into the total price of your loan. This might include prepayment penalties or common dealer fees like a documentation fee, destination fee or gap insurance.
Term: This is the length of your car loan, usually expressed in months. The longer the term, the lower your monthly payment will usually be, but the more interest you'll pay over the length of the loan.
Monthly payment: Your monthly payment is the amount that you are agreeing to pay to the lender each month. A longer term, lower interest rates and a lower total price all are factors that can lower your monthly payment.
5. Finalize your loan
Once you have your vehicle and you know what auto lender you'll be using, it's time to finalize your loan. If you are financing your car through the dealership, they will guide you through the rest of the paperwork process. If you have an external loan, you'll usually call your lender to tell them you want to finalize the car loan, and they'll guide you from there.
In either case, take a close look at the auto financing contract. All car loan contracts have a federal truth-in-lending disclosure that may look something like this.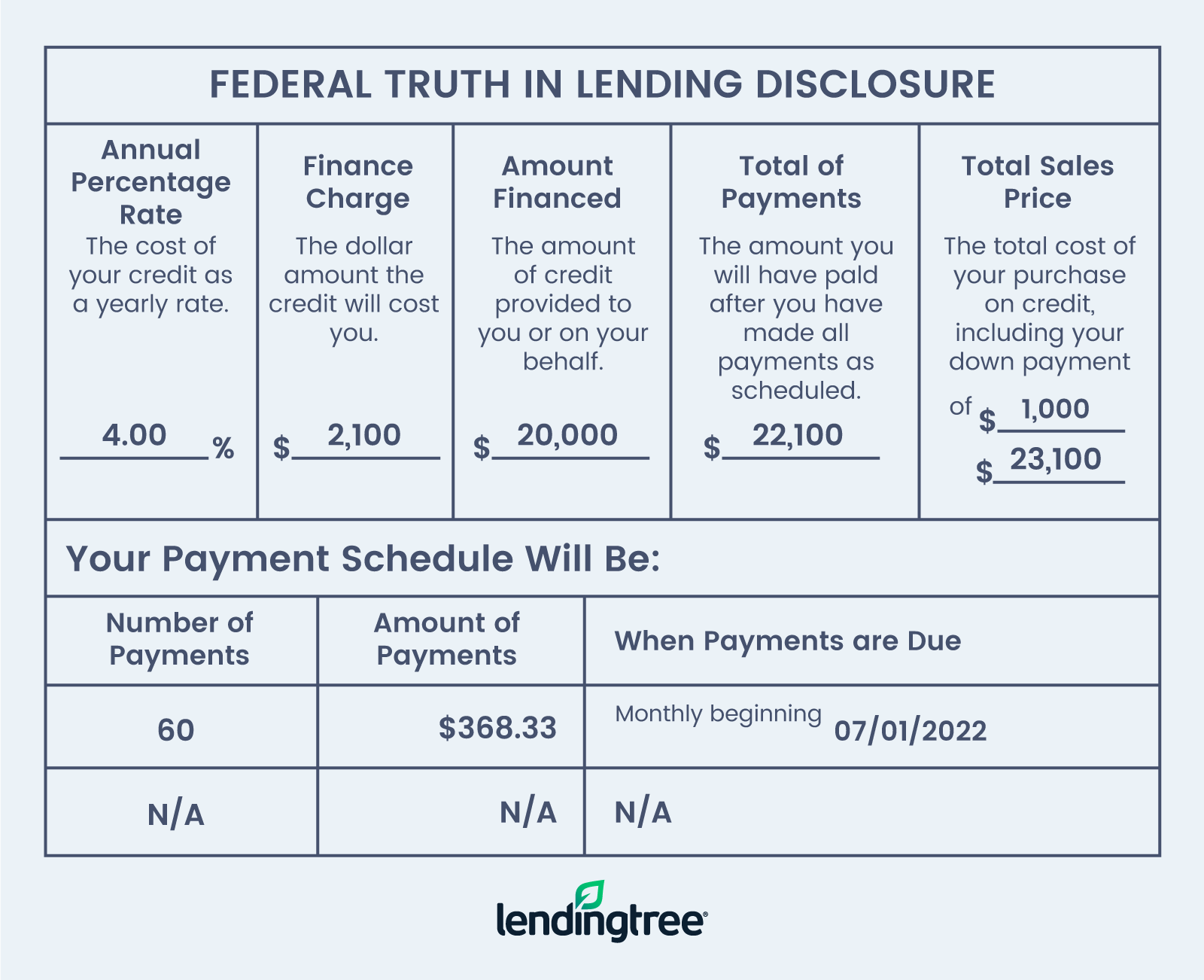 Review this disclosure, and if you have any questions, ask. In many states, once you sign the contract and drive the car off the lot, the car is yours and you can't return it. Therefore, it's very important that you agree to everything in the contract.
Your monthly payment, APR and amount financed should be what you agreed to during the negotiation process. If they're not, hit the brakes and get the dealer or lender to fix it. If you see any odd fees or add-ons, ask the dealer to explain them and/or remove them.
When everything is right, sign the contract and you're done! You did it! Congratulations on your new loan and car purchase.
How to get a car loan: FAQ
Is it hard to get a car loan?
The amount of difficulty you'll have getting a car loan will depend on your financial information. If you have good credit and a steady source of income, getting a car loan should be no trouble at all. You'll likely have multiple, competitive offers. If your credit is less than perfect or your income isn't reliable, it can be more difficult to get a car loan.
Can I get a car loan if I have bad credit?
It is possible to get a car loan if you have bad credit, but you will likely pay more in fees and interest. Lenders use your credit score and the information from your credit report to determine whether they will lend to you and what terms they might offer. One option to consider if you have bad credit is getting a trusted friend or family member with good credit to cosign your loan.
How can I get preapproved for a car loan?
To get preapproved for a car loan, you'll usually fill out a loan application with the lender of your choice. This will include all of your demographic and financial information, and usually results in a hard pull on your credit. It can be a good idea to compare rates and terms from several lenders; it doesn't hurt your credit to apply to multiple lenders any more than it does to apply to one, as long as the applications are submitted in the same 14-day window. Preapproval helps ensure that you're getting the best deal.