How Does LendingTree Get Paid?
LendingTree is compensated by companies on this site and this compensation may impact how and where offers appear on this site (such as the order). LendingTree does not include all lenders, savings products, or loan options available in the marketplace.
How Soon After Purchase Can You Refinance a Car?
Published on: September 21st, 2021
Editorial Note: The content of this article is based on the author's opinions and recommendations alone. It may not have been reviewed, commissioned or otherwise endorsed by any of our network partners.
You've taken out a loan to buy a new or used car and you suddenly discover that you're paying an interest rate that is much higher than it should be. Or maybe you found that you can't afford the monthly payments.
One option is to refinance the loan at a lower rate and possibly for a longer term, which could save you money and reduce your payment amount, though it may add to your debt load by extending the length of your loan. Refinancing is possible even with a new loan, although there are special factors to consider.
Understanding refinancing your car
Refinancing a new car means that you take out a new loan to pay off the old one. The new loan can be for the remaining duration of the old one or even shorter, though in most cases, the more popular choice is to extend the length of time you'll need to pay off the loan. If you do choose this, know that taking on a longer loan term could reduce or even eliminate any savings you might get from refinancing. Depending on your choices, refinancing can save you a lot of money.
Refinancing a car loan is easier and faster than refinancing a mortgage, and none of the lenders we checked charge fees; you may still need to pay a small title transfer fee imposed by your state's Department of Motor Vehicles.
One thing to keep in mind is the earlier you refinance, the more you can save. For example, using the LendingTree auto loan refinance calculator, suppose you were a year into a 72-month, $30,000 new car loan at 7.00% APR with a payment of $511. If you refinanced at 3.00% APR for the remaining 60 months of the original loan, you'd save about $4,450.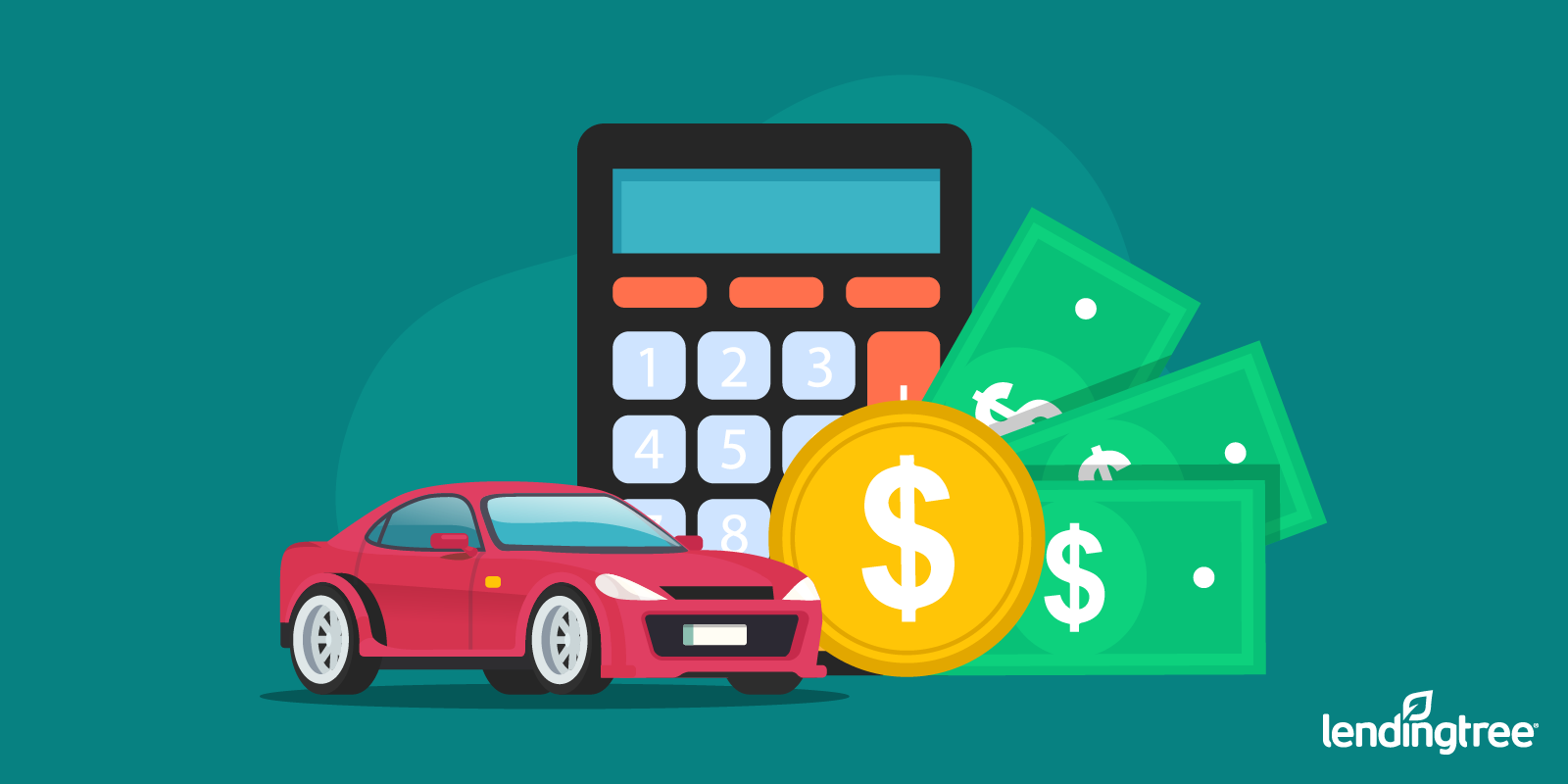 When does it make sense to refinance your car loan early?
Here's why refinancing early can make sense:
You got a bad deal on your current loan
This can happen if you financed through a dealership without doing your due diligence. Dealership financing typically comes from banks, independent lenders and captive financial arms owned by the car manufacturer. But sometimes dealers don't quote those lenders' best rates and instead quietly mark them up to pad their profits. The best course to avoid this is to get a preapproved car loan before going to the dealership.
Your credit score has improved
Even within the first 12 months or so, your credit score may have improved enough to make you eligible for a significantly lower rate. Perhaps you corrected a mistake on your credit report or paid off most of your outstanding debt. Maybe you've demonstrated that you're responsible by paying all of your bills on time, or your income increased. Whatever the reason, an improved credit score can make getting a better loan deal far easier.
You've developed a relationship with a lender
Some institutions offer low rates for their members or customers. And some have special deals to attract new borrowers. For relatively new vehicles, some lenders will refinance your existing loan at their attractive new car rate. These rates can be better than what you initially took on when you first applied for the car loan. It pays to continually evaluate your loan and your payments to ensure you're getting the best rate possible.
You took a rebate rather than a 0% APR deal
Automakers frequently offer incentives on new vehicles to boost their sales, such as 0% APR financing and rebates. Often, consumers with excellent credit who qualify for these types of deals have a choice between a large rebate or a low-financing offer. For example, you may have a choice between a cash rebate of $2,000 or 0% APR financing. If you take the rebate, you'd have a 4.00% APR. If you choose the 0% APR financing offer, you will lose the $2,000 rebate. In the spirit of "have your cake and eat it, too," we typically suggest taking the rebate from the automaker and then refinancing in a month to a lower APR from another lender. To continue the example, if you take the $2,000 rebate with 4.00% APR financing, wait a month, and then refinance to 2.99%, you obtain a large cash rebate and a low APR.
You can't afford your car loan payments.
Refinancing typically offers the option of extending the loan beyond the original ending date. That, along with any reduction in your rate, can reduce your monthly payments. But a longer term will also eat up some or even all of the savings from a lower refinancing APR. As a last resort, you also could consider cash-out refinancing, in which a lender will refinance your loan and give you cash up to — and in some cases more than — the difference between the amount you owe and the vehicle's value, if higher. But such borrowing is extremely risky, especially since you're already in a pinch.
What are the drawbacks of refinancing a car loan early?
It's still important to know that refinancing in the early months of a car loan, or in some cases, at any time, can be a bit tricky. Here's why:
You may not qualify
Lenders generally don't like refinancing a loan if you owe more than what your vehicle is worth. This can happen if your car has lost value faster than you've been paying it off. It's most likely to occur early in the loan, especially if the vehicle is new, the loan term is long and/or you made a small down payment, less than 10%. Even then, a lender might agree to refinance if you first pay the difference between the amount you owe and the vehicle's current value.
You may already have the best rate
If you purchased your car new, you likely got an attractive new car rate, especially if you took advantage of a special interest offer that can feature rates as low as 0% APR. The refinancing rates for some lenders, among them Bank of America, are higher than even their used-car rates. Also, interest rates have been at record lows due to COVID-19; experts predict rates will begin to rise in late 2022 to 2023.
You may not qualify for a top rate
If it has only been a short time since you got your initial loan, your credit score still may be suffering from the temporary hit from a "hard inquiry" to your credit report, especially if you've also applied for other types of credit, such as a mortgage or one or more credit cards. Your refinancing rate may also be affected if you were late on or missed loan payments, or you haven't had the loan long enough to demonstrate that you'll consistently pay on time, especially if you don't have a long credit history.
You may have to pay a penalty
Some car loans may have prepayment penalties or other fees if you pay off your loan early and to go to another lender. Check with your current lender whether there are any early payoff penalties on your car loan.
How to refinance your car loan early
Figure out your current loan
Start by determining the rate on your existing loan and finding out how much you still owe. It's also wise to get your current credit score so you'll have some idea about whether you'd qualify for lenders' advertised top rates. Don't forget to check for special deals. And remember that if you have a late-model vehicle, you may be eligible to refinance at a lender's new car rate, instead of higher used car or general refinancing rates. So check that, too.
Determine if you qualify for refinancing
Find out whether you'd meet a lender's requirement for a refinancing. Capital One, for example, won't refinance loans for cars that are more than seven years old, and the payoff amount on your current loan must be between $7,500 and $50,000. Like many lenders, it also won't refinance a loan that it issued in the first place.
Calculate your savings
Use an auto refinance calculator to estimate how much you'd save. You'll need to know the remaining loan balance, monthly payment and interest rate for your current loan. You'll also need to enter the amount you'll want to refinance, which often is the remaining balance, as well as the number of months you want the loan to last and your expected interest rate. Keep in mind the results are only estimates.
Contact lenders
Contacting lenders is the only way to know for sure whether you'd qualify to refinance and at what interest rate, term and amount you'd be charged. You can apply online, but it's probably best to talk to someone to review your situation if there are any special considerations. You can check out our list of the best automotive refinancing companies.
Do the math
Your focus should be on saving money by looking for a lower rate and a new loan that ends no later than the original one. Of course, when deciding on which term to choose, you'll need at least a general idea of your income and expenses to see whether the payments will fit into your budget.
If you must extend the loan beyond the original end date, keep it as short as possible and try to make additional payments to the principal along the way. (In the $30,000 loan example above, extending the loan by 12 months would reduce your savings by about $500.) Once your finances improve, you can refinance again.
Finally, avoid cash-out refinancing unless absolutely necessary. You could be putting your vehicle at high risk for repossession. Your financial situation will only get worse if you can't make it to work.
FAQ on when to refinance your car
Should I refinance my car?
You should refinance your car if it will lower how much you pay in interest over the life of the loan and/or if it will lower your monthly payment.
Does refinancing hurt your credit?
A hard credit pull will always ding your credit initially. But the three major credit bureaus allow a window of 14 days for consumers to rate shop. All hard credit pulls done within two weeks don't hurt your credit any more than one hard pull.
How does refinancing a car work?
Here are the six steps to refinancing a car loan. To summarize, you apply to a few lenders, receive several offers, accept the offer that's best for you, sign on the dotted line and start making your new payments.