How Does LendingTree Get Paid?
LendingTree is compensated by companies on this site and this compensation may impact how and where offers appear on this site (such as the order). LendingTree does not include all lenders, savings products, or loan options available in the marketplace.
What Credit Score Is Needed to Get a Personal Loan?
Published on: April 30th, 2021
Editorial Note: The content of this article is based on the author's opinions and recommendations alone. It may not have been reviewed, commissioned or otherwise endorsed by any of our network partners.
Unsecured personal loans are lump-sum installment loans repaid in fixed monthly payments over a set period, typically a few years. Since they don't require collateral, personal loan lenders determine eligibility based on a borrower's financial history, including their credit score.
The minimum credit score for a personal loan is 600, typically, although each lender has different eligibility requirements. Borrowers with good credit scores of 670 or higher have a better chance at loan eligibility, while those with bad or fair credit may not qualify for a personal loan at all.
Personal loans typically require a good or better credit score
Lenders for personal loans want prospective borrowers to have a history of on-time debt repayment and responsible borrowing decisions. While the credit scoring model isn't perfect, it's one way to measure a person's financial background. Lenders perceive consumers with higher credit scores as less risky, while those with low credit scores may be seen as risky borrowers.
If you're shopping for a personal loan, you should aim to have a credit score that's "good" or better under FICO's credit scoring model, which lenders commonly use. It consists of the following ranges:
FICO credit bands
Exceptional
800+
Very good
740-799
Good
670-739
Fair
580-669
Poor
>580
The average consumer has a "good" credit score of 682, according to February 2021 LendingTree data. While a good credit score may be enough to qualify for a personal loan, the best personal loan offers are reserved for those who have very good or excellent credit.
Typically, the higher your credit score is, the lower your personal loan interest rate will be, and the less your loan will cost over time. Although, some other factors may impact your interest rate, including the loan amount and repayment timeline. And the cost of a loan may be further impacted by fees, such as a loan origination fee.
Can you get a personal loan without a credit check?
No, legitimate personal loan lenders will require a credit check to determine eligibility. If you're searching for a loan, be careful to avoid predatory lenders that advertise
no-credit-check loans
, such as
payday loans
. These loans come with extremely short repayment periods and high APRs, making them difficult and expensive to repay.
How your FICO credit score is calculated
Your credit score is one way a lender measures your ability and likelihood to repay a personal loan. Credit scores are calculated using several factors tied to your financial wellness, such as your ability to make timely payments on current loans and credit cards. See a more detailed breakdown below: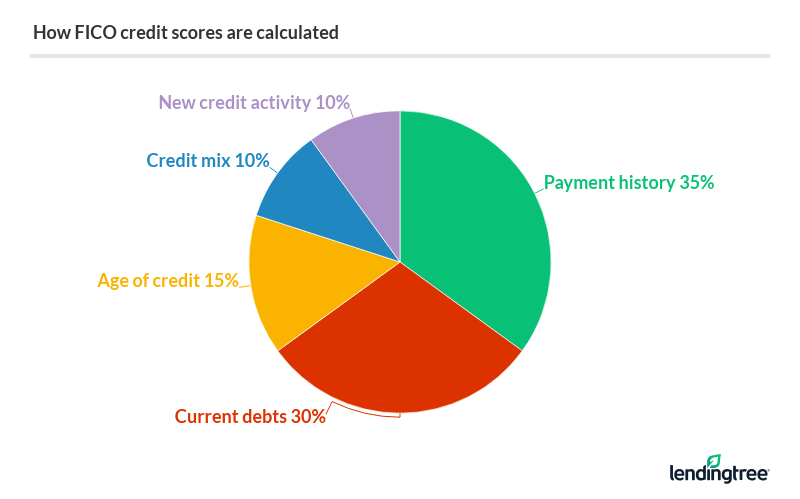 Payment history (35%): Your record of on-time payments, missed payments, the number of days an account has been overdue, as well as how recently you missed any payments or delivered late payments.
Current debts (30%): How much you owe, the number of accounts you are responsible for and how much credit you have available compared to your current debt levels.
Credit history length (15%): The length of time of on-time payments on every account, on average.
Credit mix (10%): The diversity of accounts you're tied to, such as credit cards, loans, mortgages, etc.
New credit activity (10%): Your recent activity, including hard credit checks and loan applications you've opened.
Other factors that affect personal loan eligibility
While your credit score plays a significant role in determining whether you will qualify for a personal loan, lenders also will take into account other factors, including:
Your income
Other debts you may have
Your debt-to-income (DTI) ratio
Collateral, if any
Your DTI ratio measures how much of your income goes toward paying debts each month. Lenders calculate this ratio by adding up your monthly debt payments and dividing that number by your gross monthly income. In general, financial institutions prefer to lend to applicants with a lower DTI ratio, as it can signal to lenders whether you'd be able to manage your new debt.
Debts such as student loan payments, auto loans, mortgages and child support payments are included in your DTI ratio. Lenders prefer to see a ratio of 35% or lower.
Applying for a personal loan in 5 steps
Check your credit score. Lenders will base much of your eligibility for a loan on this number, as well as your income and DTI ratio. If your score is below 585, you may want to hold off on applying for a loan, although you may still qualify for one but with high interest rates. You can check and monitor your credit score for free on the LendingTree app.
Get prequalified through multiple lenders. Different lenders will offer you different interest rates, so it's important to do your research. Prequalification allows you to see the loan terms you may qualify for with a lender with a soft credit check, which won't affect your credit score. LendingTree's personal loan marketplace lets you fill out one form to see if you prequalify through multiple lenders.
Compare loan offers. Your annual percentage rate (APR) is an annualized cost of borrowing including interest rates and fees, making it a good measure of the cost of a loan over time. You'll typically want to find a loan with the lowest possible APR for your situation. You should also consider the loan amount and length to see how much a loan will cost you over time.
Formally apply with a lender. Once you've selected a lender you want to formally apply with, you'll submit to a hard credit check. This can temporarily affect your credit score. Lenders will typically ask for proof of income, bank statements and other identifying documents during the application process.
Receive your loan funds. Once you've been formally approved for a loan, you'll be able to accept an offer and move on to the next step: obtaining your funds. Some lenders make loan decisions quickly and fund approved loans just as fast. This means you could get a personal loan deposited right into your bank account the same day you apply.
Before you apply, consider boosting your credit score
If you're worried that your credit score isn't good enough to qualify for a personal loan with competitive terms (or at all), you might want to take some time to improve your credit score before applying. Taking the following steps can help improve your score:
Make payments on time, every time: Going forward, work to make regular, on-time and in-full payments for any debts or bills you may have. This will show lenders you can manage debt responsibly.
Pay down existing debt: The less debt you have, the higher your credit score can be. Lenders want to know that you can repay your debts and also have the cash flow to manage monthly payments on new debt.
Avoid applying for new credit: If you open several lines of credit in quick succession, your credit will be dinged with multiple hard credit inquiries, which lowers your score. New credit accounts may also lower your credit history length, hurting your score.
Dispute errors on your credit report: Unfortunately, it's common for credit reports to reflect outdated or inaccurate information. These errors can lower your credit score, negatively impacting your chances of qualifying for a personal loan. You can request a free copy of your credit report from each of the major credit bureaus through AnnualCreditReport.com. Review your credit report closely, and if you find any errors, report them.
Ask for goodwill adjustments: If you've made late payments in the past, you can write to a creditor and request that records of those late payments be removed from your report. Learn about asking for a goodwill adjustment here.
3 personal loan alternatives for fair or bad credit
Personal loans aren't the right choice for all borrowers. If you have bad or fair credit, consider an alternative borrowing option like the ones listed below:

Secured personal loans

Home equity loans

401(k) loans
Secured personal loans are personal loans backed by collateral or property such as a vehicle that a lender can seize if you are unable to pay back a loan. These loans typically offer lower interest rates and higher loan amounts than unsecured loans, as lenders have an assurance they will be able to recover some or all of the value of the loan.
Home equity loans allow homeowners to borrow from the equity they have in their home at a lower interest rate than what's offered by unsecured loans such as personal loans. If you default on the loan, though, you risk losing your home.
401(k) loans allow you to borrow from your own retirement savings. Since you're borrowing money from yourself, you're also paying back interest to yourself. However, you may face tax penalties if you don't repay the loan on time. Also, carefully consider whether the money you borrow is worth the lost potential earnings.